Don't forget about your pets when planning for your estate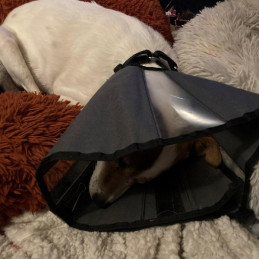 My dog Bosco needed to have surgery on Wednesday to remove an eye. Dogs can get glaucoma, and his left eye was not responding to all the medications we were trying. Such high pressure in the eye reduces blood flow and compromises vision. It also hurts. If you have a pet, you should consider who should take care of your pet if you are no longer able to and if they would have the funds to afford the pet's care. Such things can be provided for in appropriate estate planning documents.
---
Frens Elder Law & Estate Planning has placed the information on this website as a service to the general public. Use of this website does not in any manner constitute a client-attorney relationship between Frens Elder Law & Estate Planning and the user. While the information on this site is about legal issues, it is not intended as legal advice or as a substitute for the particularized advice of your own counsel. Anyone seeking specific legal advice or assistance should retain an attorney. This website could include inaccuracies or typographical errors. The materials on this website do not constitute legal advice, do not necessarily reflect the opinions of Frens Elder Law & Estate Planning or of Attorney Stacia Frens, and are not guaranteed to be correct, complete, or up-to-date. The articles and information on this website are provided as is without warranty of any kind, either express or implied.
Sep 23, 2022
by